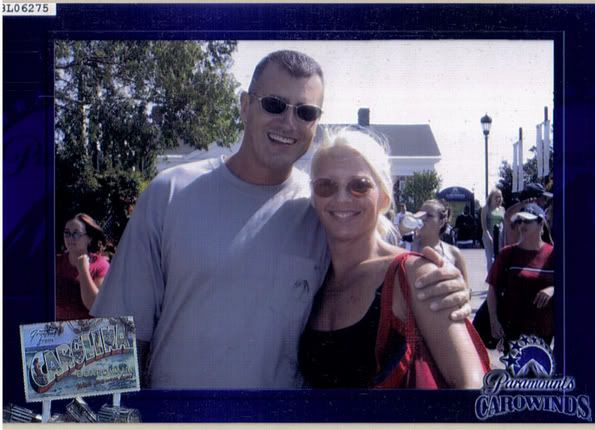 When Mark was home on leave, on the last deployment, we went to Carowinds. He and I enjoy riding all the rides, especially the high thrill type rides. When we first got there, there was some one taking pictures as people walked in. We received a little wrist band, and at the end of our day, went back to check out the picture. We both loved it. It was a good day.
I understand that this time will be different. Mark is planning on leave for sometime after the holidays. There are a multitude of reasons for this. People ask "will he be able to be home for the delivery of the baby?" Well, no. There really isn't any way to be certain WHEN I'll deliver the baby. I didn't go full term with my first two. Also, he wouldn't have been there very long before he would be attempting to come home for the delivery. So that would make the remainder of his stay very very long. People then ask "what about Christmas?" Well...I suppose he could. But he believes that his guys should be able to try to come home for the holidays before he does. A younger me would have argued with him and become indignant. But how can I complain about him having these thoughts, feelings, points of view...when that's one of the things I love about him? So, after the holidays he'll come home on leave. We'll have our Thanksgiving, Christmas, New Years then. The baby will still be infantile. It will still be cold. It will break up his deployment nicely. It will also have benefits for me. Just as it won't seem so long to go for him, it won't seem so long to go for me.
The baby will have more awake time, and she will probably (if she's anything like my first two) be able to hold her head up even when she's on her belly. She will still be tiny, but less a ball of goo, and more a baby. It will all be alright.
Mark called a short time ago. He had been in a first aid type class. They made him watch a Baghdad ER video. Evidently, this video is on certain cable channels. He warned me right away NOT to watch it. I've learned when people tell me not to watch something, to head their advice. I don't become defiant and try to prove anything. I still have not seen "Saving Private Ryan".
He said the video shook him up pretty bad. He said he could look around the room and pick out the Soldiers who had been deployed to Iraq before. Their reactions were different to those who had not been deployed there. It's different when you've experienced it. Mark put it this way. "It's like the people who watch the Hurricane Katrina video's on the news. They say 'Awe, that's too bad. That's horrible' but if you've actually lived through a hurricane and lost everything, you cannot comprehend it" I think that was a good way to put it into perspective, for me anyway.
All of the gravity and reality of the situation came rushing back at Mark. It shook him. He continually spoke in terms of "forgetting what it was like over there". Mark didn't forget. No Soldier who saw "action" in Iraq can forget. They just twist their reality. When you pull a year long deployment in Iraq, Iraq becomes your reality. It's serious business.
Silly civilian situations don't affect you. The first few months you're back at home, Iraq is still your reality. Home isn't reality. Silly things like your wife having a certain way for you to load the dishwasher is beyond comprehension. How can that be important when you had been trying to stay alive and keep your men alive? How can these silly house rules mean anything? Doesn't anyone realise what responsibilities you had on your shoulders? How important you were? How important your job was? So, your civilian life isn't real for a while. It's very nearly senseless. But you start to melt back into it. The way your mind handles it is in equal proportions. The more real your civilian life becomes, the less real Iraq becomes. You don't forget it. It's just not your reality any longer. There is no need for it to be your reality. Your reality isn't checking bridges for people standing on them, ready to blow you up as you go under. Your reality isn't driving down the MIDDLE of the highway, but making an conscious decision (in the beginning) to stay in your lane, because your home now. Your reality is putting the silverware in the dishwasher upside down, so that the food gets washed off it properly. Making sure your children close the door all the way when they go outside, so the dogs don't run out and get hit by a car. Allowing yourself to lay on the couch with your wife for a WHOLE Sunday, watching old movies. This is reality.
Then BOOM!!! You're deployed again. You now get to watch a video that completely changes your reality, once more.